Last updated: January 3, 2023
A hygrometer, or humidity meter, can be handy around the house. It is great for controlling the humidity of your dry box – and keeping your camera gear safe – or managing the climate inside your greenhouse. Choosing one, however, can be tricky, which is why we researched the best options on the market for you.
Best Hygrometers 2023
1.Temp Stick
2.SensorPush
3.Ambient Weather
4.Cigar Oasis
5.AcuRite
Temp Stick Wi-Fi Temperature & Humidity Sensor
The first hygrometer on our list is the Temp Stick Wi-Fi Temperature & Humidity Sensor. It is a remote hygrometer and temperature sensor designed to work with a mobile app. The Temp Stick is very compact and easy to set up. It also connects with your phone wirelessly, as the name suggests. After testing it extensively, there are a few features that we think you will like.
Easy setup is the first on our list. It takes no more than a few minutes to unbox the Temp Stick, place it in the right area, and get everything configured properly. You can connect the Temp Stick to a local wireless network using the app too. We also love how the device is pre-calibrated, so you don't have to go through complex steps to get accurate readings.
Notifications coming from this device are also handy. You can program Temp Stick to send notifications to your phone or email. It is also possible to configure parameters that trigger the delivery of notifications, so you can set alarms for when it gets too humid or the temperature gets too high.
Long battery life is also a feature of this device. Did you know that the Temp Stick can run for 12 months with just two AA batteries? We thought rechargeable hygrometers were better, but the Temp Stick's long battery life changed our mind. There are alerts that tell you when the batteries are low, so you don't have to worry about forgetting to change the batteries either.
Of course, no hygrometer is good if it isn't accurate. Fortunately, accuracy and reliability are two areas where Temp Stick succeeds. As mentioned before, the device comes pre-calibrated from the factory, so you get highly accurate readings out of the box. After some testing, we found that the temperature reading from this device is accurate to ±0.5°C.
The Temp Stick Wi-Fi Temperature & Humidity Sensor has other great features too, including:
Easy monitoring using the provided apps

No subscription; buy once and use it for as long as you like

Connect unlimited number of sensors to your phone

Flexible measurement time settings

Custom triggers and alerts for up to 10 contacts
SensorPush Wireless Thermometer & Hygrometer
If you are looking for a budget-friendly option, you can't go wrong with the SensorPush Wireless Thermometer & Hygrometer. The SensorPush hygrometer is almost as capable as the Temp Stick, but it costs a lot less. While it sacrifices accuracy, build quality, and durability in exchange for a more affordable price point, it is still a capable device when used to measure temperature and humidity around the house. You also need to purchase a separate Wi-Fi gateway to activate alerts and notifications.
Of course, these are extra features that you may not always use, so you may want to choose the SensorPush for its lower price and have a great hygrometer in your hand. It still connects to your phone and streams readings in real time. It takes readings every minute in a continuous way for a smoother data stream and better visualization. It will even monitor readings from the sensor when not connected to your phone.
On its own, the SensorPush can store 20 days-worth of data. Connect it to a phone, and you have unlimited data storage at your fingertips. The device uses a coin-cell battery (CR2477) which is more difficult to find than AA batteries, but the SensorPush is a lot smaller due to the smaller battery. Besides, a single CR2477 battery will power this device for more than a year.
There are other features you will also love, including:
Affordable price point

Quick set up

Better app UI and usability

Compact and versatile, easy to install in tight corners and tricky spots
Ambient Weather WS-10-X4 Wireless Thermo-Hygrometer
Ambient Weather is a big name in the weather monitoring industry, so it is not surprising to find its thermos-hygrometer to be incredibly capable. Before we look into the features, however, there is one downside you need to know: it's a bit pricey. If you don't mind the premium, however, the Ambient Weather WS-10-X4 Wireless Thermo-Hygrometer offers so many features, starting with its central indoor console.
The Ambient Weather WS-10-X4 Wireless Thermo-Hygrometer package includes one indoor console and four remote sensors. The console tells you readings from connected sensors in real-time, so you don't actually need your phone to check the temperature and humidity level. In a classic Ambient Weather fashion, you can also extend the Ambient Weather WS-10-X4 by adding four more wireless sensors.
The console has a built-in sensor for measuring temperature and humidity around it. it also has a built-in speaker, so you get visual and audio alerts when certain parameters are triggered. The alerts are highly customizable. You can, for example, trigger an alert if it is too dry. The wireless sensors can be used to monitor areas like the basement or storage room too.
If not having to open an app to monitor temperature and humidity is something you appreciate, then the Ambient Weather WS-10-X4 is the right hygrometer for you.
Cigar Oasis Caliber 4R Gold Digital/Analog Hygrometer
As previously explained, you can use a hygrometer to monitor humidity in a dry box or a humidor. The Cigar Oasis Caliber 4R is actually designed for that purpose; you can probably tell by the name that it is a hygrometer for your cigar humidor. If you are serious about keeping your cigars fresh and ready for use – and doing so in a stylish way – then the Cigar Oasis Caliber 4R is worth looking into.
The Cigar Oasis Caliber 4R is one of the most affordable options on the market. Don't let the lower price point fool you though; this is an accurate hygrometer capable of playing with the big boys. In fact, it measures humidity within 1% RH. It also has a unique design to it, combining a classic circular design with a large digital display and dial inside.
The sensor is simple and can be calibrated if it is not accurate enough; it is pre-calibrated, so you don't have to do this when taking the Cigar Oasis Caliber 4R out of the box. The simplicity means there are no advanced features to expect from this hygrometer. No support for mobile apps and no way to connect it to a wireless network.
It does, however, have a color-coded meter on the front side, and a magnetic mount on the back. The colors are there to allow easy reading of humidity and temperature, while the magnetic mount makes securing the Caliber 4R to any cigar case easy. The classic design is a nice touch too!
AcuRite 01083 Pro Accuracy Indoor Temperature and Humidity Monitor
Another great budget option to consider is the AcuRite 01083 Pro Accuracy Indoor Temperature and Humidity Monitor. This is the option to consider if you are looking for a basic humidity monitor and nothing more. Accuracy is never an issue with the AcuRite 01083, plus you get some interesting features to complete the set.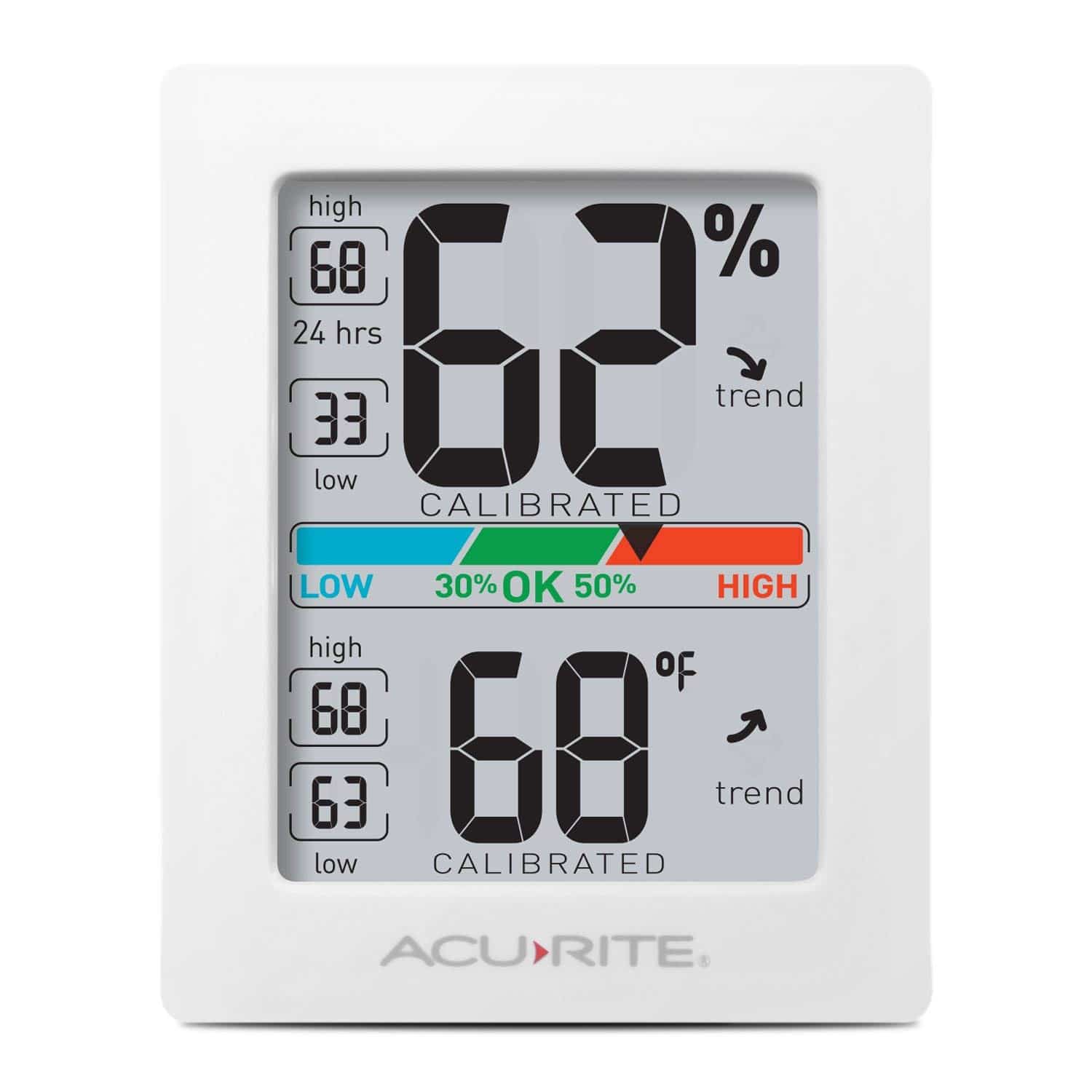 For starters, a clear display is used to show readings. The AcuRite 01083 comes with a color-coded level indicator for humidity, so you can always tell if it is too dry or too humid. Actually, we think the color-coded level indicator is a nice touch, because it makes the device appear more advanced than it really is.
There is a built-in sensor for measuring temperature and humidity, but AcuRite 01083 does not support the use of remote sensors. It also comes with a mount; you can choose to let it sit on your desk or mount it to the wall using the magnetic backing. Either way, you will end up appreciating the sleek and simple design of the AcuRite.
One small challenge to overcome when using the AcuRite 01083 is calibrating the device before using it for the first time. We prefer if it's pre-calibrated, but there is a clear guide in the box and calibrating the sensors isn't as complicated as you think. At its price, spending a few more minutes setting up the AcuRite 01083 is justified.
Videos – The best Hygrometers
We went out and found the most relevant videos we could – give us some feedback if you can about the quality.
Video – Temp Stick
Video – SensorPush
Video – Ambient Weather
Video – Cigar Oasis
Video – AcuRite
Shopping for a Hygrometer/Humidity Meter?
The Best
The Runner Up
Third Place
Fourth Best
Fifth Place
FAQs relating to hygrometers
What is a hygrometer and how does it work?
The main function of a hygrometer is for measuring humidity. In other words, a hygrometer is a device used to measure the amount of water vapor in the air. A more traditional hygrometer uses contractions – and how they are affected by humidity – to get accurate readings.
Depending on the sensors used, a hygrometer measures humidity in different ways too. When electrical sensors are used, the amount of water vapor in the air is measured from the electrical resistance between two semiconductors.
What is a hygrometer used for?
If you think a hygrometer is only useful in industrial situations, think again. There are a lot of reasons why measuring humidity can be incredibly handy. With a hygrometer used around the house, you can monitor humidity in a more continuous way. This will set up the hygrometer as an early detection of leaks and an effective way to prevent mold.
A hygrometer is also used in humidors for cigars as well as dry cabinets (for gadgets and camera gear) and wine cellars; in places where controlling humidity is important.
How do you read a hygrometer?
Depending on the device you use, you may see humidity displayed in different ways. You should be able to see the current humidity displayed as a percentage. Anywhere between 30% to 60% is considered a comfortable humidity. When the humidity level hits below 30%, it is considered dry; levels higher than 60% are considered humid or wet.
Why is a hygrometer important?
Whether it is for monitoring the interior temperature and humidity around the house, for keeping your cigars fresh, or for protecting your lenses and digital cameras from water vapor, a capable hygrometer is a great investment. You can use it for monitoring humidity, generating alerts under certain parameters, and even preventing worse humidity-related problems from occurring.
What is the opinion on our recommended #1 hygrometer?
Rated 4.6stars out of 28 reviews. Have your say below!
Please Rate Our Article!
Thank you for your vote. We will review it and add it ASAP.
Enter your text here…